Getting your airline profitable with Miagen
Miagen delivers a consultative service to tailor the models to suit your airline's unique financial productivity and performance indicators. We start with a discovery exercise to set a baseline for your current state, then we work with you to determine the key performance indicators. Our experience has shown that fewer KPIs are better: we recommend you choose only the productivity performance drivers that are the true drivers of corporate performance.
By focusing on a select set of KPIs, it's easier to set consistent team goals across your entire organization. Everyone understands what drives cost consumption and what drives profitability. It creates a language that's common to all parts of the business.
To get to this point, we automate data collection from your disparate operating and finance systems using Dell Boomi, a leading multi-tenant scalable data integration platform. We implement models in the leading cloud-based CPM software platforms. This facilitates consistent, robust, automated, enterprise standard calculation of unit selling prices, unit costs, volumes, yield, and mix for each performance driver.
So, what does the aviation financial KPI ecosystem look like?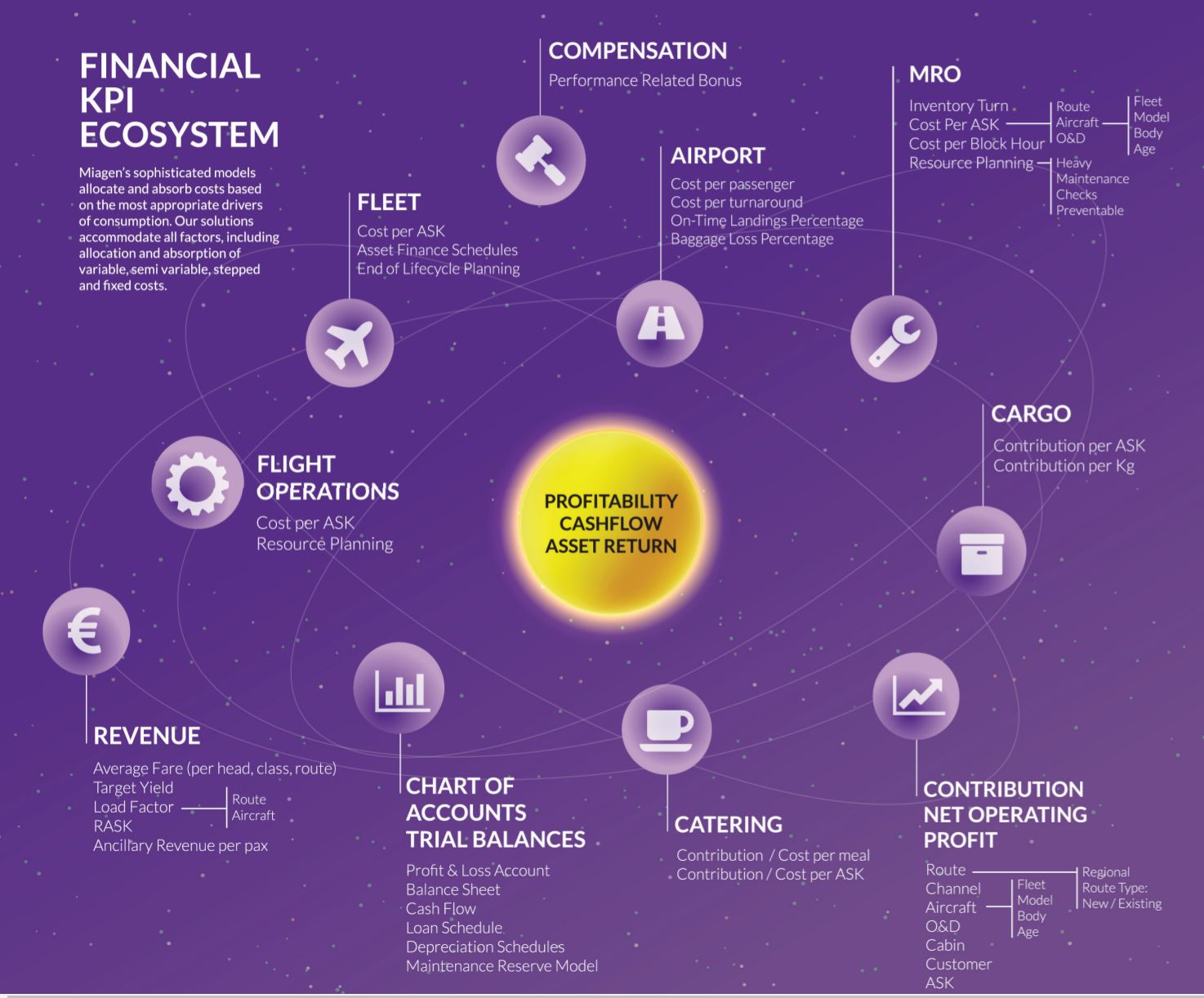 To get to the infographic above, you need to be:
Focused on goals
Management decisions in each business unit are consistently focused on key financial performance and productivity metrics.
Measuring the right things
Better and more consistent key financial performance and productivity metrics are used for planning and reporting corporate performance.
Responsive to change
Quickly see the impact of a decision or change in one business unit on another unit and on the entire organisation.
Deeper understanding
The impact of all corrective scenarios across every part of the organisation is easily available, with full insight into what is driving variances from the plan with drill-down capability.
Alignment across all units
Plans of one business unit are fully connected to the plans of every other unit and to the company's plans as a whole.
Decisions backed by hard data
The solution gives managers the ability to change course at any time with full and immediate insight into how the changes could impact resourcing, financial productivity, key performance indicators and profitability and cash flow across the organisation.
Reward against outcomes
Structure compensation plans against achievement of key financial performance goals and against productivity metrics.
Insight: knowing how you win
Management who are part-compensated by overall company performance has a better understanding of what drives that performance – both inside and outside their control.